---
Play the Video!
A short 60 second message which will tell you what my philosophy is.
Do You Wonder if there might be a Better Way?
Some people are intimidated by innovation and exploring new ideas... I happen to love asking questions and challenging the status quo. If you are curious, on the lookout for new ideas and naturally inquisitive then I think you'll enjoy what's inside here.
What I Talk about and the Questions I ask
Play with Ambiguity


Assume nothing and have a play with meanings and intentions.

Observe and Learn


An attempt at seeing reality by cutting through the rubbish.
---
Something Personal
What Does an innovator Look Like?
When I was an employee I used to wonder why the people I worked with seemed unable to see what[...]
Observations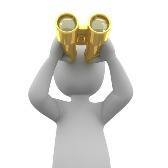 Seeing the Big Picture
"Being able to take a big step back, observing the big picture and seeing the woods."
Asking Better Questions
"My focus is to ask the kind of questions that may not get asked"
Aware of Small Details
"Sometimes I just need to look at the details and really see the trees"
Ready to Get Started? Click below to get your weekly digest of short videos and articles.
More...